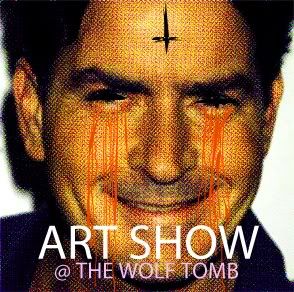 Me and my roommate and art pal Eric Thomas are opening up our home, and filling the walls with some of our favorite locals artists stuff, including:
Leonard "Porkchop" Zimmerman, Erik Russell, Joycette, Ami Tumeless, Gabi Hutchison, Evan Granstki, Tena Marie, Ryan Davis, and a slew of others. Including our own art as well.
This is for one night, so please come hang out, support some radicals.
BYOB, and one wolf hair required for entrance. Kidding, it's free.
LOCATION: The Wolf Tomb.
*If you know me and Eric, then you know where we live.
If not, go to "contact" and send me an email, and we'll give you directions.
Here's the facebook event link to attend!
CLICK HERE TO RSVP
See you there!