I've recently been asked to participate in an AWESOME art show / music fest August 9th in little 5 points in Atlanta, GA.
Here's my poster: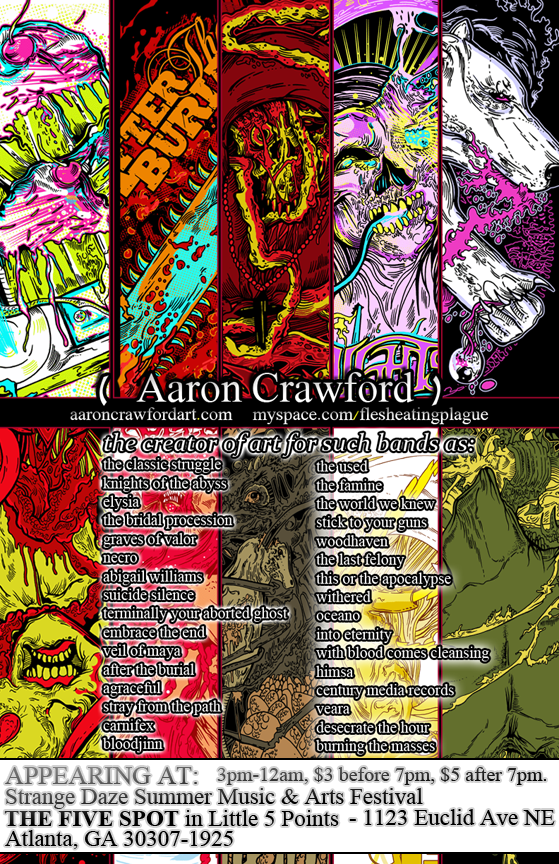 I will be displaying original drawings & a ton of original paintings, including a few of the Goosebumps series I am doing.
Here's an ad from the website:
"Strange Daze will feature 12 of the most bewildering and dynamic local bands that Atlanta has to offer! The band list includes musical acts within a variety of genres such as experimental, rock, punk, folk, progressive, acoustic, psychedelic, Americana, indie, and alternative, and many with a unique combo of any of the above!
Strange Daze will also be featuring local artists who will be displaying and selling their work during the festival! The art will include paintings, ceramics, jewelery, and much more!
LOCATION:
Come join our explosion of creation at THE FIVE SPOT in Little 5 Points, 1123 Euclid Ave NE Atlanta, GA 30307-1925 - (404) 223-1100
3pm-12am, $3 before 7pm, $5 after 7pm"
If you live in the area, come say hi to me. It would be awesome.
Here's a list of artists that will be showing work:
Brandon D
http://www.myspace.com/artofbrandond
War Graphics Arts
http://wargraphicarts.com/
& Lindsey Ellcessor, Cooper, and a TON of others.
Quote:
Taken from the Strange Daze website:
"What is Strange Daze?
The festival is meant to bring together some of the most intense creative minds that I've been lucky enough to find, for one day of commune with like-minded spirits. It's meant to help these artists get exposure as an entity of originality and substance. Strange Daze is not about rules, but convictions, not about conformity, but modification, not about what dazzles, but what inspires."
You can check out the Strange Daze website at the following:
http://themoonandpluto.webs.com/strangedaze.htm
Hope to see you there!
-Aaron
aaroncrawfordart.com