"Blessed be the sinners, for the day of atonement is at hand."
- Angela
Night of The Demons is honestly one of those movies that you can watch a few times, take a break from, then come back to a few days later and it's awesome all over again. Those of you who have never seen this movie and are into horror,
you NEED to check it out.
A remake of it is in the works, which I doubt will come anywhere close to how gnarly the original was. Shannon Elizabeth? Come on...
Enough about that.
Among the massive amount of projects I have underway, I was able find time to paint this messy Demon. Nothing serious, just a fun painting.
Here's the piece I did inspired by the movie:
"Angela's party"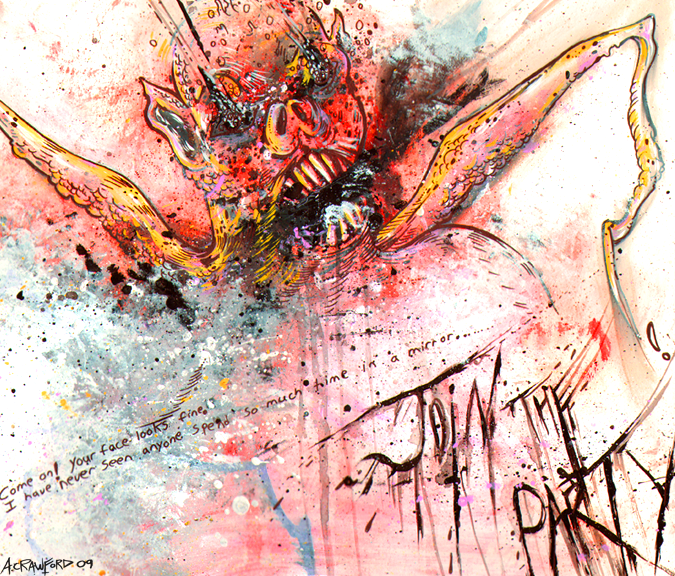 This painting is for sale. If you're interested in purchasing this, please head over to
http://aaroncrawford.bigcartel.com/product/angelas-party
and you place your order there.
Here's a trailer for the 1988 classic:
Poster:
Another reminder, I will be in Atlanta, GA August 9th, where you will be able to view this piece and a ton of others at the Summer Daze Music & Art Festival.
Here's the address and info. PLEASE come and support all of the bands & artists who will be there. It will be amazing.
THE FIVE SPOT in Little 5 Points
123 Euclid Ave NE Atlanta, GA
Phone - (404) 223-1100
3pm-12am, $3 before 7pm, $5 after 7pm
Taken from the official ad:
"Strange Daze will feature 12 of the most bewildering and dynamic local bands that Atlanta has to offer! The band list includes musical acts within a variety of genres such as experimental, rock, punk, folk, progressive, acoustic, psychedelic, Americana, indie, and alternative, and many with a unique combo of any of the above! Strange Daze will also be featuring local artists who will be displaying and selling their work during the festival! The art will include paintings, ceramics, jewelery, and much more!"
-Aaron
aaroncrawfordart.com